Technology
Apple iMac 21.5 inches
2020-07-25
Eduardo Fernandez
The Apple iMac 21.5 is a very attractive value proposition. It's one of the most affordable computers in the Apple lineup while it can be used out of the box for a variety of tasks.
Let's look at what makes this product so popular.
Pros
Great 21.5 inches 4K Retina Display
MacOS is the best OS
More affordable than other Mac computers
Super easy setup
Cons
Is not as fast as a Macbook Pro
Is expensive compared to other All In One computers
Less portable than a laptop
As a computer programmer, I was looking for any Mac that I could use to work on projects at home.
My projects are a mix of back-end and front-end work. If you are not into software development that means that I work on user interfaces as well as the systems behind them that process the data.
So I needed a computer that I could use to run multiple tasks at once, as well as be good for designing and building beautiful user interfaces for web and mobile apps.
I did not want to invest in a more powerful Macbook Pro since it would have required buying an additional monitor.
I find a typical laptop screen too small for this type of use since I have to work with multiple applications at the same time while I also need to be able to see the result of my work without having to constantly switch back and forth.
My business projects are still in their infancy and I needed to get the most out for the money that I was willing to put in.
The 21.5 inches iMac is a good balance of power with an astonishingly beautiful 4k Retina screen.
All at a very affordable price for a Mac.
First of all, do you want or need to have a Mac? This was the decision I made from the beginning. I've used Apple computers for a while now and they are very good for what I do.
If you want a Mac, then do you want a laptop or are you looking for a desktop computer? This depends on the type of work and office arrangement you might have. Whether you can always work from home, etc.
The 4k retina screen is the most significant feature on this iMac. If you are looking for an all-in-one desktop computer and want or need to invest in a good screen then this iMac could be the one for you.
There's the 27-inch one that is probably better in most categories but it's also around $600 more expensive.
Setting it up is a breeze so you can be up and running in no time. Just turn it on and follow the simple setup instructions.
Setting it up is a breeze so you can be up and running in no time. Just turn it on and follow the simple setup instructions.
It comes bundled with an Apple Magic Keyboard and Apple Magic Mouse 2 that seamlessly work out of the box.
The iMac is so light and slim that it can fit pretty much anywhere, you do not need a very big desk for it. I keep mine on a small desk but sometimes move it around the house to accommodate for temporary arrangements.
It also looks beautiful so it would not make a home office look any worse.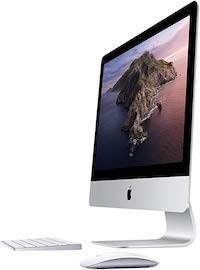 I recommend going with the i5 version since the i3 feels a little sluggish when doing more intensive operations.
Build quality on the iMac is what we have some to expect from Apple products:
Simple minimalistic design that just works.
High-quality materials and overall premium feeling.
I've had mine for a few months now and no issues so far. If history can serve us now, we can presume my iMac will be active for a long time as has always been the case with Apple computers and products in general.
You can, of course, add AppleCare insurance to all Apple products if you want that extra peace of mind.
It comes in 2 variants:
3.0GHz Intel Core i5
3.6GHz Intel Core i3
I recommend going with the i5 version since the i3 feels a little sluggish when doing more intensive operations.
It is around $200 more for the i5 variant.
21.5-Inch (diagonal) 4096-by-2304 Retina 4K display
Stunning 5-mm-thin design
Quad-core 8th-Generation Intel Core i3/i5 Processor
Radeon Pro 555x Graphics processor
Two Thunderbolt 3 (USB-C) ports
802.11AC Wi-Fi
Magic mouse 2
Magic keyboard
Macos Mojave, inspired by pros but designed for everyone, with dark mode, stacks, easier screenshots, useful built-in apps, and more
The decision to buy this iMac or not rests on whatever combination of all these factors is right for you. There are many available options even just within the Apple ecosystem.
For me it was about price and making sure it was good enough for my needs without additional purchases.
If you find this iMac is for you, good offers can be found in Amazon as well as other retailers.
Are Apple computers better than Windows PCs?
It depends on the type of activity you are going to use the computer for. They are generally more reliable and better performing. They have a reputation to be more secure and are somehow less susceptible to malware and viruses.
Why do software engineers prefer Macs?
For software engineering the Macs are 100% better than Windows PCs simply because MacOs is a Unix based OS so the tools and terminals are going to be very similar to what you are going to find on the Linux servers where the software is going to run. So in the end is a computer you can use for both work and personal stuff.
Should I get the 21.5 or 27 inches iMac?
Well it depends, generally speaking bigger is better. I find the 21.5 inches is good enough for my use case and don't feel like spending an extra $300 - $500. But if you can spare that kind of money the 27 inches is as good as it gets when it comes to displays.
What are the 21.5 iMac dimensions?
Height: 17.7 inches (45.0 cm), Width: 20.8 inches (52.8 cm), Depth: 6.9 inches (17.5 cm), Weight:12.5 pounds (5.66 kg)